Picking out an air conditioner for your home can be daunting and sometimes confusing. The options available are numerous, but how do you know which air conditioners the best for your home?
Action Furnace is here to help you find the best option for keeping your home as cool as a cucumber come the hot summer months, and this guide is a great starting point for anyone interested in air conditioning.
Central Air Conditioner
Central air conditioners are some of the most common units available to homeowners since they are the most efficient at cooling many rooms at once.
These air conditioners work by taking warm air through your ducts where it's then cooled by the outdoor central cooling unit (often called the condenser or compressor) before being blown back inside as cool air.
Despite being the most expensive option in terms of a start-up cost, central air conditioners are extremely cheap to run. The average price for running one unit only costs about $129 a year!
However, these units need a lot of planning and preparation to be installed correctly. Even if your air conditioning unit is working efficiently, having the wrong size can rack up your utility costs. Be sure to contact our team so we can help you find the right air conditioner for you and your home.
Ductless, Mini-Split Air Conditioner
Mini-split air conditioners run like central air units by having an outdoor compressor/condenser circulate warm air from inside the house to be cooled before blowing it back inside through indoor handling units. If you have someone in your home that is very particular with their room temperature, mini-split air conditioners are perfect for setting different temperatures across your home.
Instead of running cold air through your supply ducts, mini-split a/c units are connected to the outside compressor through hoses, which make set up for these units a breeze.
These units typically run around $1,200 to $1,700 in price, but they are easy to install and are a great option for cooling smaller homes or condos.
Window Air Conditioner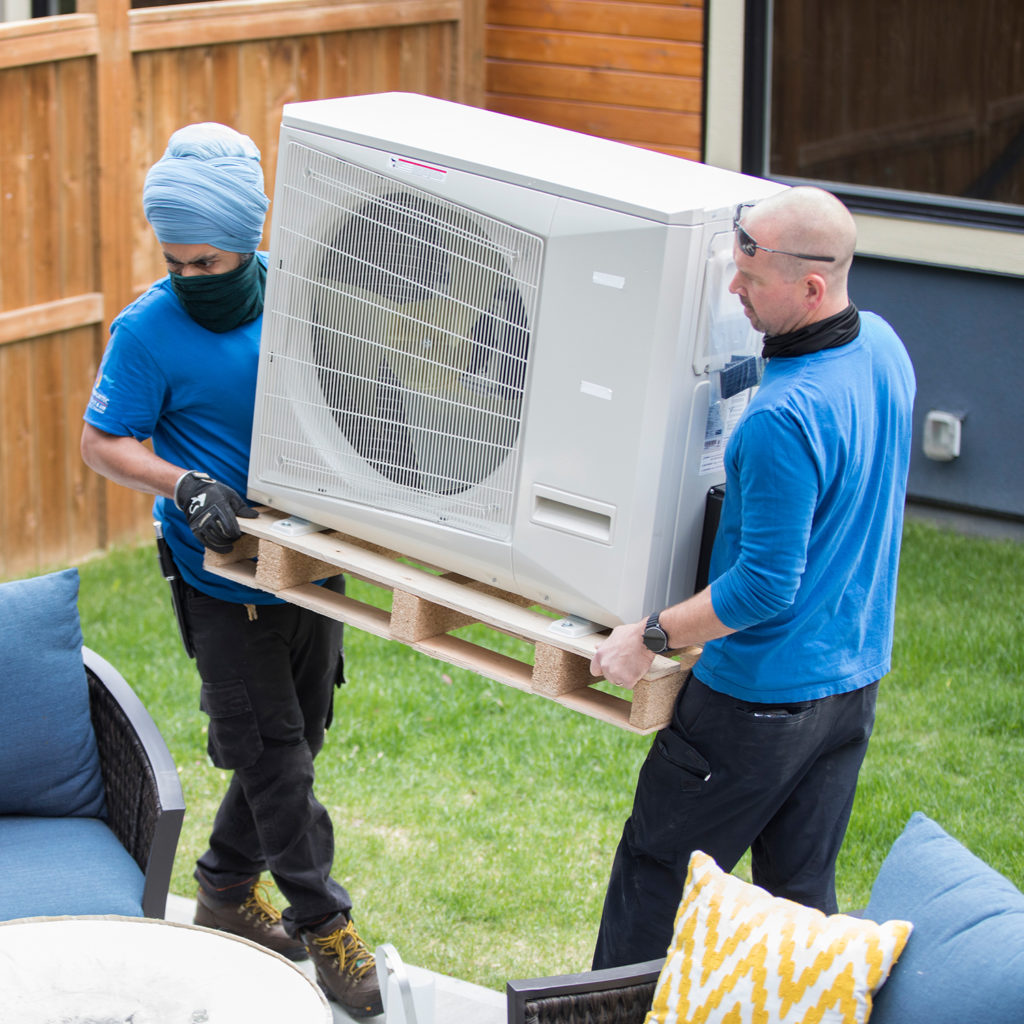 Window air conditioners are the easiest a/c unit to install but are some of the least powerful. However, these are a great option if you're looking to cool an apartment or just a few rooms.
What window air conditioners do is blow warm air out of your room through the back while emitting cool air inside through the front.
These conditioners often run between 5,000 BTU's and 15,000 BTU's depending on its size. Be aware of how large the space your cooling is, as running an air conditioner constantly to keep your room cool can lead to a shortened lifespan.
Typically these units run around $100 to $600 depending on BTU size.
Portable Air Conditioners
Not unlike window a/c units, portable air conditioners are one of the best options for smaller living spaces. How these units work is by taking air from your room and cooling it while sucking in warm air and blasting it outside through a hose.
Starting at around $150 for smaller models, portable a/c units can end up being around $700 or $800 depending on the BTU size you are looking to buy.
Evaporative Air Conditioners
If you live in a particularly dry and hot environment, evaporative air conditioners are perfect for cooling down your home. Unlike most a/c units where they pull hot air out of your house and blow cold air in, evaporative air conditioners pull in hot air from outside where it is cooled by evaporated water then dispersed by the indoor unit.
Because of the fact that these units are using evaporated water to cool air, evaporative air conditioners also doubles as a room humidifier, which might not be optimal for people living in damper environments.
These units are typically very expensive running around $1,000 to $4,000 depending on its size and installation. These units also will need a professional to help you set up since they are connected to your home's duct system.
Our Team Is Here To Help You
Keeping your home cool and comfortable during the hot summer shouldn't be a huge to-do. Take action today and get in touch with our professionals at Action Furnace to find the best available heating and cooling options for your home!