Home Comfort, Industry Developments
Whether you bought your home or you built it yourself, your home is something you take pride in. Within your home, you have different rooms for diffe...
Whether you bought your home or you built it yourself, your home is something you take pride in. Within your home, you have different rooms for different purposes. Keeping these rooms at comfortable temperatures all the time may be difficult with a standard furnace and air conditioner.
The rooms in your home are all going to deal with temperature differently. Instead of warming or cooling your whole house just for one room, a zoned HVAC system can be used to control specific areas of your home.
Keep reading to learn more about zoned HVAC systems and if they're right for your home.
What is a Zoned HVAC System?
Your home's HVAC system is responsible for heating, ventilating, and cooling your home. Installing this system can be an effective way to keep your home comfortable throughout the year.
However, homes with standard HVAC systems are controlled by one system that cannot separate rooms within the home. A zoned HVAC system allows you to separate the temperature within your home. What's more, this system will still all be controlled by a single HVAC system!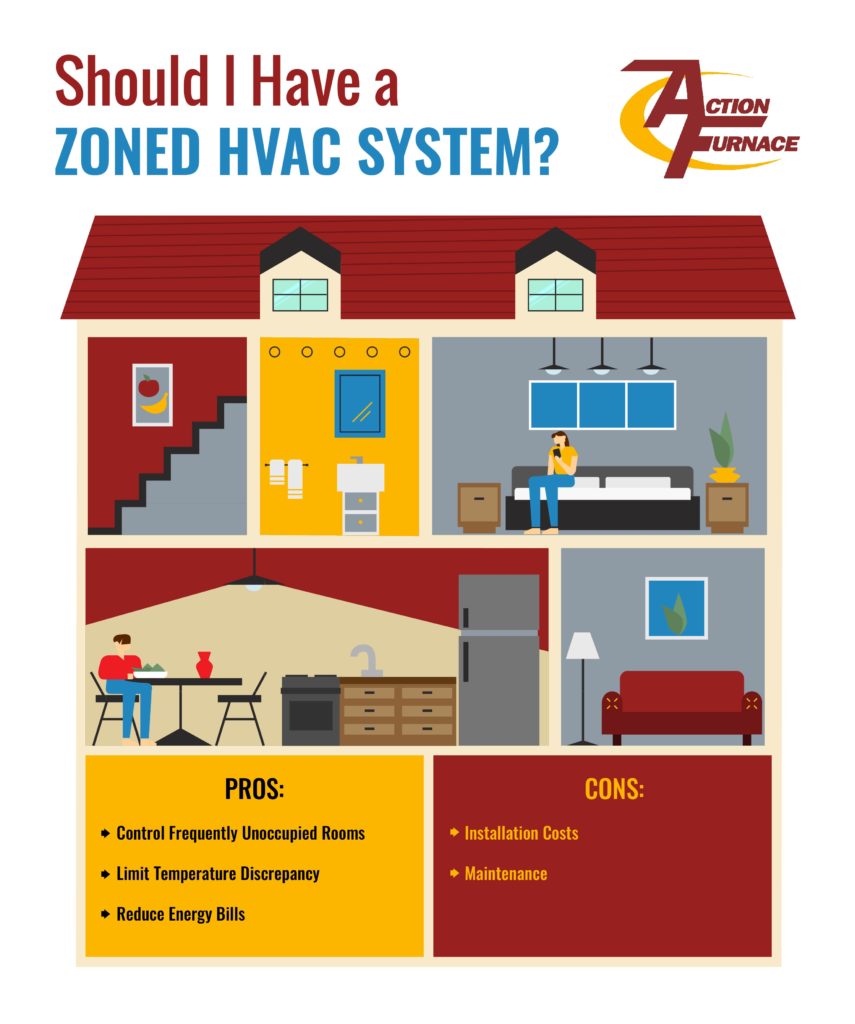 How Do Zoned HVAC Systems Work?
For your home's zoned HVAC system to effectively separate the temperatures in different rooms, it needs two main components, controls and dampers.
Controls
Just like your regular HVAC system, zoned systems require a thermostat. With a zoned system, you have a couple of different options when it comes to controlling the temperature of rooms.
Firstly, you can separate your zones with individual thermostats for each zone. Using individual thermostats allows you to control the temperature without having to leave the zone. However, this can be a hassle if you want to control all your zones at the same time.
Secondly, if you wish to still control your whole home's temperature on one thermostat, you can use a multizone thermostat. This type of thermostat connects to the sensors in each zone and allows you to control the temperature of your whole home.
A multizone thermostat will typically run between $130 to $600.
Dampers
For the temperature to be separated throughout your homes sensors (dampers) are needed. Dampers are in the ductwork of your home. To manage the desired temperature, dampers will send signals to a control panel to either start running your furnace or air conditioner if the temperature isn't right.
The connection between dampers and the control panel is wired. From the control panel to your thermostat can be either a wired or wireless connection.
Zone sensors can run between $28 to $45 and zone control panels between $115 to $200.
While zoned HVAC systems do help to create a more comfortable home environment, there are both pros and cons to installing one of these systems. Before you decide to install a zoned HVAC system, consider the following.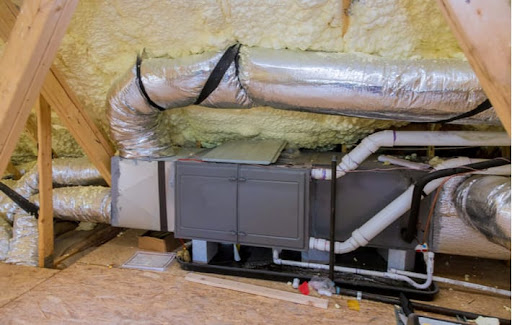 Pros
Frequently Unoccupied Areas
In any home, there are bound to be rooms or areas you don't spend as much time in as others. If an area of your home is frequently unoccupied, there's no reason for its temperature to be regulated. Using a zoned HVAC system can help you regulate these unoccupied spaces.
Temperature Discrepancy
Depending on the time of day, you've probably noticed different rooms can be different temperatures than others. If one area of your home is cooler than the others for most of the day, heating your home can make the other rooms uncomfortable. A zoned HVAC system will adjust specific room temperatures throughout the day.
Reduced Energy
In addition to keeping your home more comfortable, zoned HVAC systems can save you money on your energy bills! The U.S. Department of Energy estimates these units could save you up to 35% each month on heating and cooling costs.
Home Comfort For All
If you live in a home with other people, you know everyone likes the temperature a little different. Zoned HVAC systems can help keep everyone in your home comfortable with the ideal temperature in their room.
Cons
Installation Costs
One of the major cons to face with a zoned HVAC system are the costs associated with its initial installation. However, once installed, these units are an investment that can save you money in the long run. For two zones, installation can cost anywhere from $2,000 to $2,500.
Maintenance
In addition to your regular HVAC maintenance, zoned systems may require a little more maintenance. However, this maintenance may only become significant when dealing with HVAC problems.
If you require any HVAC maintenance, give us a call!
Is a Zoned HVAC System Right For You?
If you're someone who is having trouble keeping the temperature in your rooms comfortable, a zoned HVAC system is a great option! These systems offer you options to heat and cool all of your rooms separately and can help save you money on your energy bills.
Interested in learning more about zoned HVAC systems and if they're right for you? Give us a call!
Related Posts: