We spend 90% of our time inside, so it's no surprise that our home's air quality can have an impact on our health. Contaminants like mould, dust, and pet dander can cause a variety of symptoms, including allergies. The best ways to keep your home's air healthy is to clean regularly, improve ventilation, eliminate mould, and to smoke outside. If you've tried these techniques and you're still concerned about your air quality, an air filtration system can help.
What Are the Benefits of Air Filtration?
Air filters and air filtration systems eliminate more debris from the air than a standard furnace filter, keeping the air in your home cleaner. Cleaner air comes with many benefits, particularly for those with allergies, asthma, or compromised immune systems.
Allergens can accumulate in your home, especially during allergy season or if you have pets. Air filtration systems help remove allergens like dust, pet dander, and mould from the air to help reduce allergy symptoms. Reduced allergens in the air can also help reduce asthma symptoms.
Microorganisms in the air can have negative impacts on our health as well, especially if you have a compromised immune system or other health concerns. Air filtration systems remove microorganisms from the air, and some catch particles smaller than 0.1 microns in size. This helps reduce risk to those who are vulnerable to infection and helps improve the overall cleanliness and smell of your home.
Signs You Could Benefit from Improved Air Quality
According to the Canadian Lung Association, poor air quality can affect almost anyone, even those of us without allergies, asthma, or immune concerns. Signs you might be suffering from poor air quality include:
Headaches, fatigue, and shortness of breath
Sinus congestion, coughing, and sneezing
Eye, nose, throat, and skin irritation
Dizziness and nausea
Worsening allergy or asthma symptoms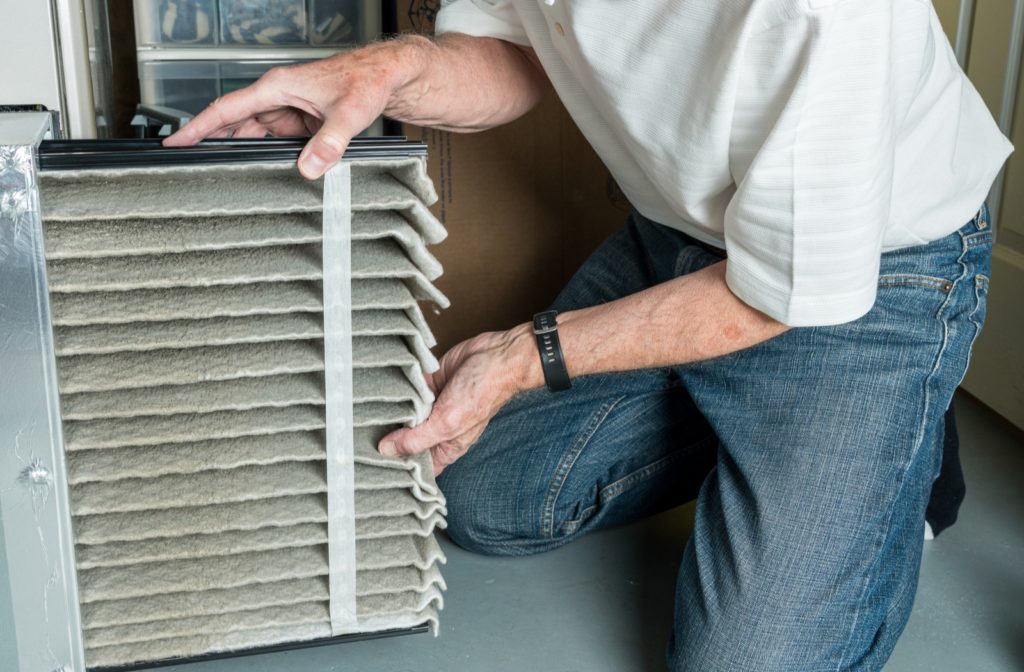 In more severe cases, poor indoor air quality has been linked to a variety of illnesses, including Sick Building Syndrome and Building-Related Illness. While these usually only occur in extreme circumstances, they highlight the relationship between air quality and our health. Air filters can help ensure safe air quality in your home.
What Are the Different Types of Air Filtration?
There are several different types of air filters, but most fit into two categories: upgraded filters and complete air filtration systems.
Upgraded Air Filters
Upgraded filters are filters that clean the air more thoroughly than your standard furnace filter. There are high-efficiency, electronic, and UV options, with high efficiency filters usually being the most budget-friendly option of the three.
That said, upgraded filters are much lower cost than complete air filtration systems. They're also quick and easy to install. Their main drawback compared to complete air filtration systems is their air filtering ability. Because upgraded filters are smaller than filtration systems, they're better suited for those who don't want or need as much purifying power.
Complete Air Filtration Systems
Air filtration systems are more expensive than upgraded filters, but they provide more complete air filtration than a simple filter upgrade. A complete air filtering system allows more contaminants to be filtered out of the air at a higher rate, with some removing up to 99.98% of particles.
Complete air filtration makes air filtration systems a better fit for larger areas or homes, or those who need even cleaner air due to allergies or asthma.
Types of Upgraded Air Filters
High-Efficiency Air Filters
High-efficiency air filters are the most basic upgraded air filter option. They're a low-cost way to improve your home's air quality and they typically remove airborne contaminants as small as 0.3 microns in size. As an added bonus, most come with an easy to change disposable filter.
Electronic Air Filters
Electronic air filters offer some very efficient options for improving home air quality. They work by creating a polarized charge to capture particles and remove them from the air. The electric technology can catch debris as small as 0.01 microns in size, preventing them from recirculating around your home.
UV Air Filters
UV air filters are powerful options for removing contaminants from the air in your home. It's the same technology many hospitals use for sterilization, as UV light can help eliminate bacteria and viruses. UV light also destroys volatile organic compounds, which are found in higher concentrations inside and can contribute to health issues like headaches and breathing problems.
Types of Complete Air Filtration Systems
HEPA Air Filters
HEPA air filters are a type of high efficiency, mechanical air filter. They work by trapping particulates in through a series of filters, preventing debris like dust, mould, pollen, and pet dander from staying in your home's air.
Many units require little to no maintenance, with each filter only needing to be changed every 6 months to 5 years. Given the cleaning abilities of HEPA filters, they can work well for larger homes. Depending on the exact model, certain 3-stage HEPA filters can purify areas of 3,000 to 5,000 square feet.
AccuClean™ Air Filters
AccuClean™ air filters remove an impressive 99.98% of potentially harmful particles and allergens from the air in your home. They're up to 8 times more effective as some HEPA air filter and 100 times more effective than traditional one-inch filters.
The powerful filters in AccuClean™ systems capture particles smaller than 0.1 microns in size 7 times per day, decontaminating the air in your home. As an added feature, these systems are easy to clean with a vacuum or hose, making ensuring high-quality air in your home a simple task. If you're curious about adding an air filtration system to your home, our technicians are happy to help. Contact us and we can discuss what air filtration system is best for your home and what other air quality solutions, like duct cleaning, are available.