The earliest furnaces used wood and coal to heat homes and buildings, but as time pressed on, fossil fuels made it even more affordable and efficient to meet ever-increasing heating needs. As technology developed further, more options became available to the public, including electric and gas furnaces.
However, what is the best option for your home? Alberta is whirlwind of different seasons often intermingling with each other, and our winters hit cold and hard. You should prepare with the best furnace system available, and Action Furnace is here to help you make the right choice.
What's The Difference?
Depending on what you are looking for, there are plenty of advantages and disadvantages that come with electrical or gas-powered furnaces. However, to properly narrow down the best option for your home, we need to take a look at each element that makes a furnace.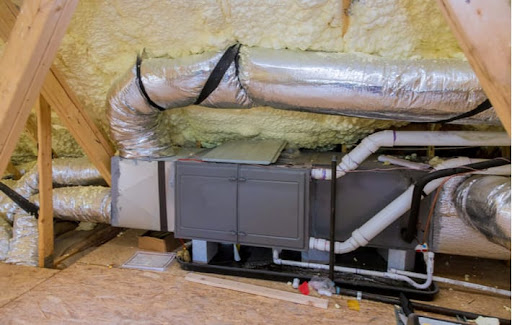 Cost & Installation
Cost is the very first thing to consider before purchasing a new furnace. Furnaces are not cheap, and often cost a couple thousand dollars including installation, so it's best to know your best options before getting started.
Gas furnaces are more expensive and require professionals to install no matter what. Because of the combustible nature of working with gas, they have to be sealed perfectly since they run a higher risk of leaking CO2 into your home. Typically, gas furnaces run up a bill between $3,000 and $7,000.
Electrical furnaces do not have the same risks when it comes to installation, and they are cheaper to install because of this. It is still recommended to contact a professional for installation because there is a lot of wiring required to have this set up correctly. The cheaper $2,000 to $4,000 price tag makes this an economical choice for smaller homes or first-time homeowners. However, the overall operating cost of an electric furnace is far more expensive compared to a gas furnace. If you're the type to leave your furnace running all day, an electric furnace can quickly eat up cash.
Heating & Efficiency
Both electrical and gas-powered furnaces have made great strides since the early days of home heating, but there are still a couple of factors at play that could still sway your opinion when it comes to heating your own home.
The main reason why Albertans choose gas-powered furnaces is because of their ability to heat homes much faster than electric furnaces. However, the catch is gas-powered furnaces are not as efficient as electric, only being able to reach 98.5% AFUE (annual fuel utilization efficiency) even if it is a state-of-the-art furnace.
Electrical furnaces are far more efficient, running at almost 100% AFUE. However, the main drawback when it comes to these furnaces is that they are much slower to heat your home, making them less optimal for snap colds that plague Alberta during the winter.
Climate Considerations
Alberta's mountains have some of the best ski and snowboarding locations in the country, but they can also lay our province in some of the deepest and coldest winters in North America. On top of that, Alberta is also incredibly dry throughout the year, and a furnace can make it drier inside your home, causing you and your loved ones discomfort.
When a furnace is running, hot air is rising throughout your home and effectively drying up wood inside your walls and furniture. The heat can cause anything wooden inside your home to start cracking or warping.
Gas furnaces can make this more of a problem than electric furnaces because of the fast pace these furnaces can heat a home. Electric furnaces take more time and ultimately gives a house a little grace period to adjust to the new temperature.
A dry climate can also make you feel less warm than it is, and because of that, you could be turning up your thermostat more and more to squeeze out a little extra heat from your furnace. This leads to a hefty heating bill at the end of the month, especially if you're using an electric furnace.
Humidifiers can help battle the dry Albertan climate, keeping your home from damaging during the winter.
Make The Right Choice This Winter
You shouldn't have to be worrying about your heating bill when winter comes, and your furnace should be able to go toe-to-toe with whatever Alberta's climate can throw at it. Our team can help you keep you toasty-warm and find the best furnace for your home.