Action Furnace helps homeowners in Calgary, Edmonton, and Red Deer with home cooling and heating. Read these 5 steps from our experienced team that will help you run your AC after winter without issues—including filter maintenance, duct cleaning, and more.
...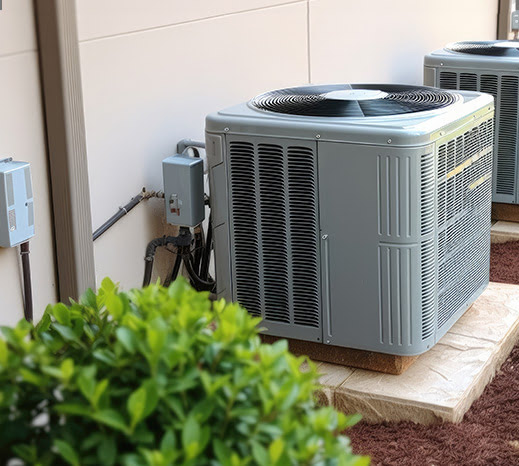 Part of enjoying summer is soaking up the sun—except when you need relief from the heat. If you're lucky enough to have in-home air conditioning, this part should be easy. But saying goodbye to winter isn't as simple as just turning on the magic "cool" button once patio season begins. You've got to make sure that your AC system is ready to start blasting cool air.
Action Furnace provides top-quality AC tune-ups and other HVAC services for Alberta homeowners, so we're here to show you how to get your cooling equipment ready for warm weather! Completing these must-do's before turning on your AC after a long winter will not only help you save money—it could also prevent a breakdown that leaves you without relief when you need it most.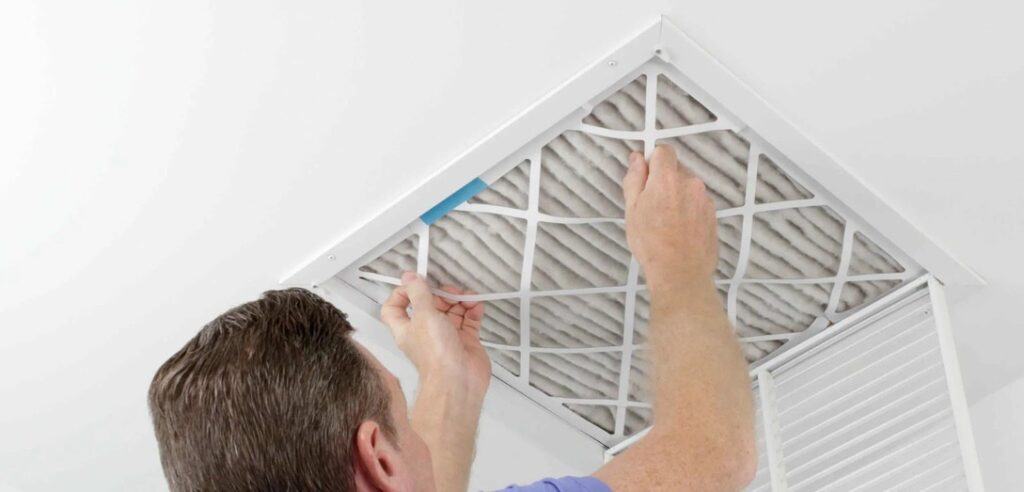 Step 1: Make Sure Your AC Filter Is Clean
Your air conditioner system is like a set of lungs for your home. It pumps out fresh air for your living space and keeps you cool in your home. But an old, dirty filter isn't going to give you fresh air.
We recommend changing the filter in your AC at least once every three months—and once each month for best results during the cooling season. If your system has a reusable filter, you can remove it and clean it off with a solution of mild detergent and warm water before reinstalling it.
The Benefits of Clean AC Filters
Air filters remove particles and debris from your air supply before they enter your ducts and flow throughout your home. A clean air filter has 2 major benefits for you and your family:
Clean air filters are better for your health and greatly improve your indoor air quality (IAQ).
Clean, unclogged air filters allow air to flow easier, reducing the demand on your AC system, and saving energy and money.
See Also:
Step 2: Switch Your Humidifier to Summer Mode
If you have a humidifier in your home, make sure to switch it to summer mode once the weather starts warming up. Many whole-home humidifiers can be switched from a "WINTER" to a "SUMMER" setting.
In winter mode, a humidifier adds moisture to your in-home air supply. Leaving your humidifier on this setting will force your AC to work harder when it's hot out. It's harder to cool moist air than it is to cool dry air. So make sure these systems are working together to give you cool, comfortable air once the sunny days start.
If you aren't enjoying steady humidity levels, it could be time to consider installing a whole-home humidifier. Homes in Canada should maintain humidity levels between 30-50% for optimal comfort and to prevent mold or other potential health problems.
See Also: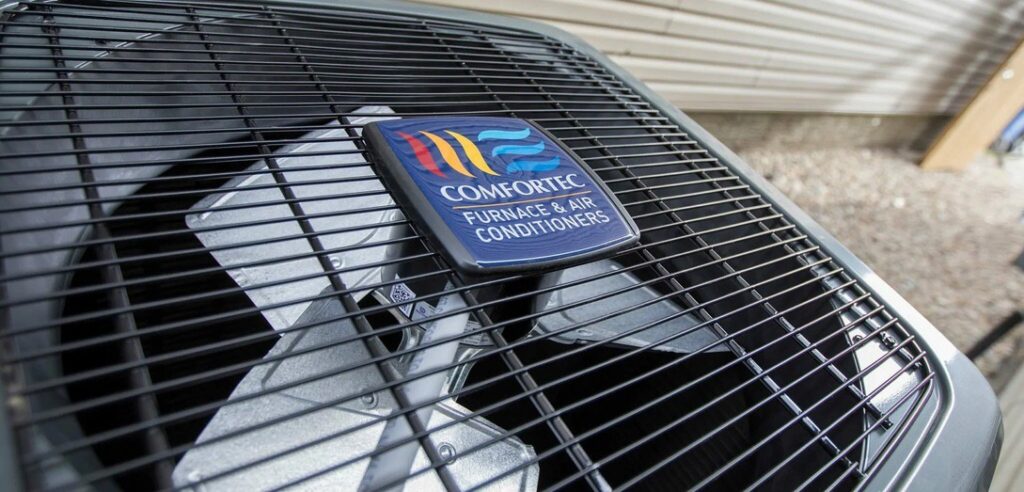 Step 3: Clean Around Your Outdoor AC Unit
Springtime in Alberta can be a little messy. When ice and snow melt or when rain pelts your property, your outdoor AC unit can be caked with mud. Wind can also blow debris into the surrounding area, or animals and insects can build nests there.
In any case, you'll need to make sure this part of your system is free from debris so that it can perform properly. The outdoor unit houses the condenser coils for your air conditioner, so any of the above can severely impact the system's efficiency.
How to Clean Your AC's Outdoor Unit
To keep your outdoor unit clean, follow these steps:
Check the unit every week for any visible debris or blockages.
Ensure 2-3 feet of clearance around the unit, removing plants, shrubs, and other obstructions.
Gently brush or vacuum the fins to remove accumulated dirt and debris.
Clear away leaves, twigs, and grass from the top and sides of the unit.
Use a hose on a gentle setting to spray the unit, removing stuck-on dirt
Ensure the unit sits on a level surface to operate efficiently.
If you've been storing patio furniture or yard equipment beside your AC over the winter, you'll also want to move these things away a few feet. Remember: better airflow means better efficiency, which means lower energy bills!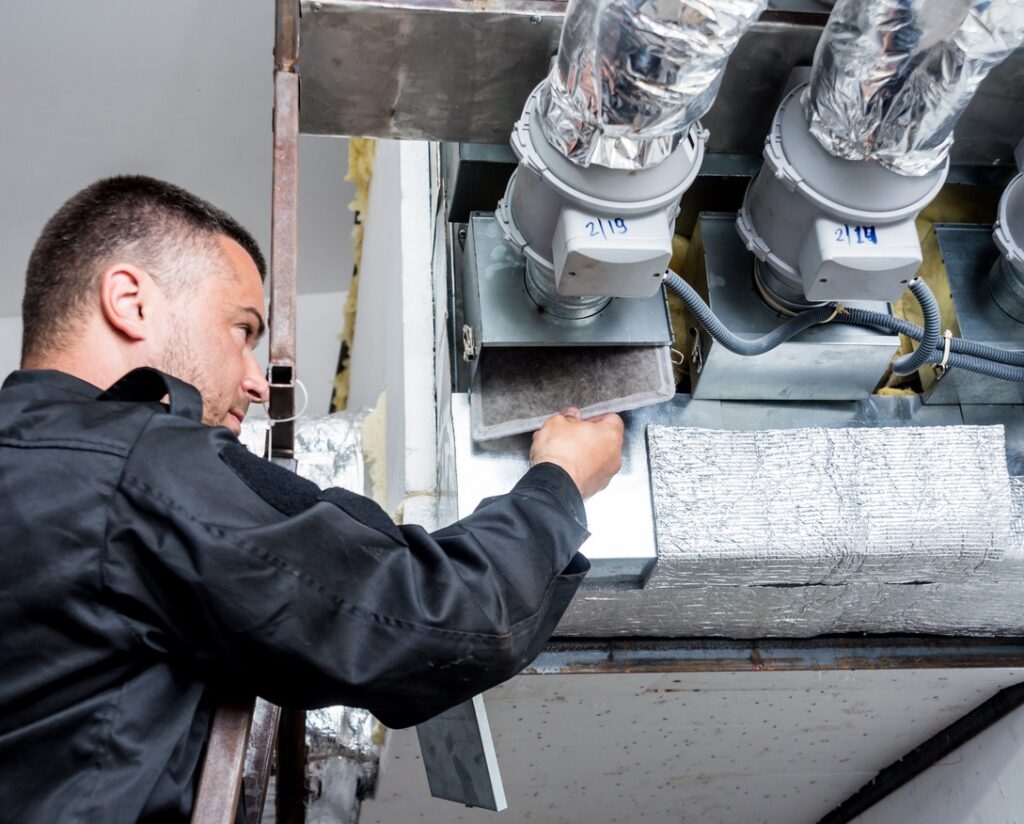 Step 4: Clear Your Ducts for Better Performance
Your home's air ducts transport climate-controlled air to the rooms in your living space—but along the way, even filtered air can pick up dust and impurities from dirty ductwork. Getting your ducts professionally cleaned before AC season is a great way to avoid strange smells the first time you turn your system on.
Why Duct Cleaning Matters for AC Efficiency
There are other reasons you should have your ducts cleaned, too. These include:
Removing contaminants to improve the indoor air quality of your home.
Eliminating allergens like pollen, pet dander, and mold spores.
Reduces energy consumption by removing obstructions.
Reducing wear and tear, leading to a longer lifespan for the system.
Minimizing the risk of fires by removing built-up dust.
Reducing your monthly energy bills by allowing the system to use less energy.
Ducts also expand and contract with changing temperatures and climates. Over time, this can lead to cracks and gaps in the airways that can lead to air loss—so having your ducts inspected and cleaned is a great way to identify leaks and fix them.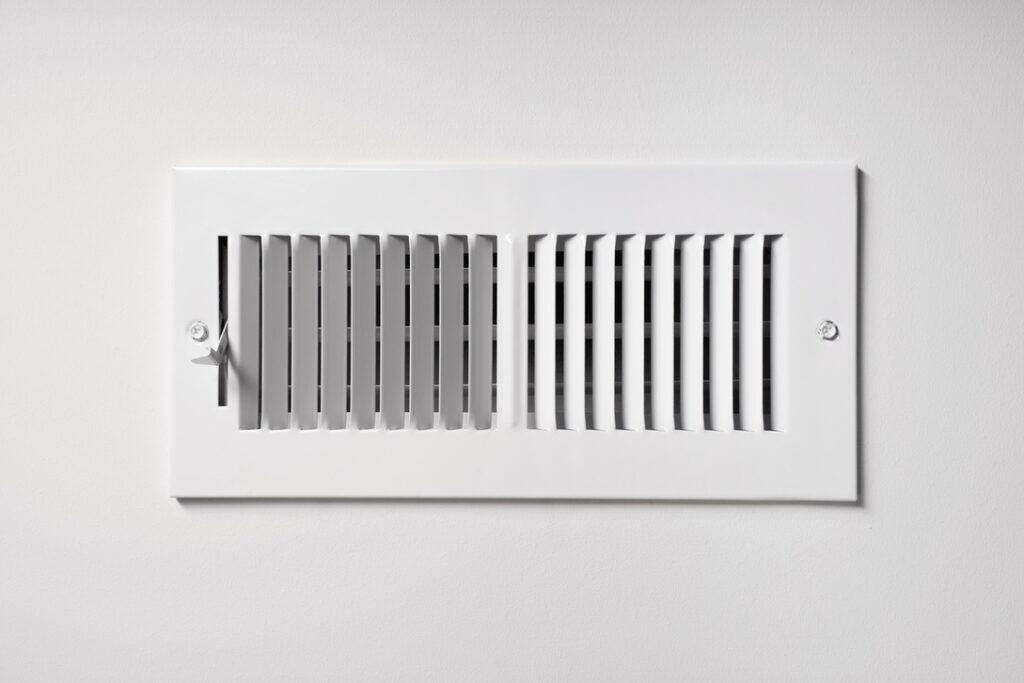 Step 5: Give Your Home a Vent Check
Chances are you've been using your furnace in Alberta until the weather changes, so the vents and registers throughout your home should already be clear. But when you're preparing to use your air conditioner, it's always a good idea to give your vents another once-over, just to be safe.
Avoid placing furniture, area rugs, or other items over floor vents.
Don't block wall registers with furniture or large items. If a couch or bed must be placed in front of a wall register, try to keep the item 18 inches from the wall.
Make sure your vent covers are clean and that air can easily pass through.
Remember also that closing your air vents while the AC is on won't stop it from running—closed vents just force more air to other outlets. Think about a zoned HVAC system if you want to limit cooling to certain parts of your home.
See Also:
Final Tip: Don't Forget Your AC Tune-Up!
The most surefire way to get your air conditioning truly summer-ready is with a professional AC tune-up. A multi-point inspection from Alberta's most trusted HVAC experts gives you peace of mind that your air conditioner is ready for the coolest summer yet.
Action Furnace services air conditioners across Calgary, Edmonton, and Red Deer. Our repairs are always fixed right or it's free. Give us a call to make sure all the must-do's are done before your air conditioner gets to work this year.
Frequently Asked Questions about Home AC Maintenance
What if I spot a leak near my air conditioner?
If there are leaks around your inside unit, this could mean a couple of things:
Your refrigerant line is frozen. Wait for the line to thaw completely before turning on your AC system. If this tubing that connects your outdoor and indoor unit doesn't thaw as the temperature rises, call an AC technician before using your air conditioner.
Your condensate drain line is clogged. When this line is blocked from draining natural condensation, water can build up and leak out of other parts of your air conditioner. Call us for help.
Do I actually need professional AC maintenance?
Professional tune-ups keep your air conditioner energy efficient during the cooling season and help identify potential problems before they have a chance to become safety hazards or costly emergencies. Hiring professionals to service or tune-up your air conditioner is also the best way to ensure that your warranty remains valid.
What temperature should I set my thermostat at for the best AC efficiency?
Your personal preferences and the time of year will both impact the optimal settings for your air conditioner during summer in Alberta. Generally, however, you'll want to set your temperature between 20°C and 25°C when you're awake and at home during the summer months, and let it warm up by a few degrees when you're asleep or away.
You should also consider purchasing a smart thermostat, which can learn your preferences and usage habits to set the most comfortable and efficient temperature for your home at all times. Action Furnace can help you acquire a smart thermostat that makes your home a refreshing haven during the warmest months of the year.
Related Posts: