There's nothing worse than having your air conditioner stop working unexpectedly. If you haven't had an air conditioner tune-up recently, your unit could have issues that could make it so your AC stops working. 
If your AC stops working, you may have no idea where to start fixing it. Before calling a professional, there are a few things you can try on your own.
Common Reasons For Your AC to Stop Working
Your air conditioner is an essential part of your home. Although you might not think about it every day, your AC unit requires regular maintenance to keep it running its best and lasting its longest. If you haven't been keeping up with your air conditioner maintenance, these are common reasons your unit could stop working.
Air Filter
The air filter is one of the most important components of your air conditioner and furnace. Having a clean air filter allows your units to run efficiently and keeps your home full of clean, cool air.
Once the air filter is clogged or blocked, your unit will have a harder time cooling your home and will either run inefficiently or not at all. It's natural for your air filter to become clogged – that means it's doing its job. However, if you have pets in your home, their hair can cause your filter to clog faster than usual.
While every air conditioning unit is different, air filters should typically be replaced every two months. If you're interested in learning more about your air filter and how often it needs to be replaced, give us a call.
Blocked Condenser
Alongside the air filter, all air conditioners have a condenser. For most AC units, this is the component that is outside the home. As this component is outside your home, it's open to the risks of weather and other external factors.
If your air conditioner has stopped working, the issue could be your condenser. To operate properly, the condenser needs to be clear of debris, such as dirt and leaves. This is cleaning that you should be doing regularly.
While most of this cleaning can be done yourself, a professional is needed to get a full clean of your air conditioner's condenser. If you're interested in cleaning your condenser, give us a call.
Refrigerant
If your air conditioner appears to be working fine but cool air isn't flowing, the culprit may be your refrigerant. Your air conditioner's refrigerant is the chemical that helps the unit cool and recycle air from inside your home.
The original refrigerant in your AC unit should last the lifetime of your unit. However, there are potential complications that require your refrigerant to be replaced. One of the most common issues with AC refrigerants is the potential for leaks. If the refrigerant starts to leak, it can cause problems with the efficiency of your air conditioner.
To identify a refrigerant leak, listen for a hissing or bubbling sound from your unit. These sounds are from your unit producing air bubbles. This is one of the best ways to know if you're dealing with a leak.
Refrigerant leaks need to be handled by a professional. If you think you're dealing with a refrigerant leak, give us a call to have one of our professionals come take a look.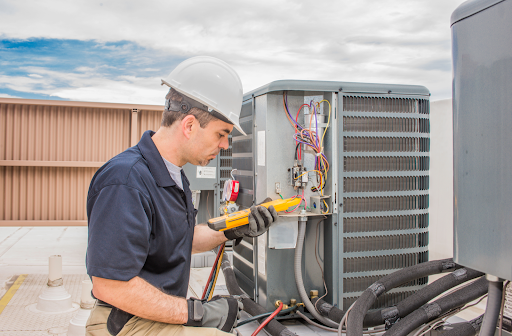 How to Fix Common AC Problems
Powering Your AC Unit
A common issue we find with AC units is to do with their power. If you're trying to turn on your air conditioner and nothing is working, try the following:
Check if your condenser is running outside your home
Ensure your unit is plugged into your thermostat correctly
Lower the thermostat temperature to even cooler
In addition to checking the connections and components of your air conditioning unit, check your unit's power supply. Your unit may not be turning on because of a blown fuse or tripped circuit breaker.
If your AC unit still won't turn on, you'll need to call a professional for help.
AC Isn't Cooling Your Home Enough
Even if your AC unit hasn't stopped working yet, it may seem like it's slowing down. You may have started to notice your home just isn't as cool as it used to be.
Try the following to raise your air conditioner's efficiency:
Check your air filter beside your furnace (if you can't see through it, it needs to be changed)
Clean any blockages around your condenser (call for professional help)
Check your duct connections for holes or disconnected areas
We're Here to Help
Taking proper care of your air conditioner is crucial to keep it running efficiently and improving its lifespan. However, if your AC unit has stopped working unexpectedly and you don't know what's wrong, give us a call. Our team is here to help bring comfort back to your home.