When Purchasing a New Cooling System, it is Critical to Get the Right-Sized Central Air Conditioner and Have it Installed to the Highest Standards.
Action Furnace is Leading the Way in installation techniques and has perfected the design and set-up of modern residential air conditioning systems.
Providing World Class Customer Experience is the focus of everything we do and is one of our core values. We also have an outstanding reputation for quality work and reliable service.
Affordable Air Conditioning Starting at $59/month. Apply here.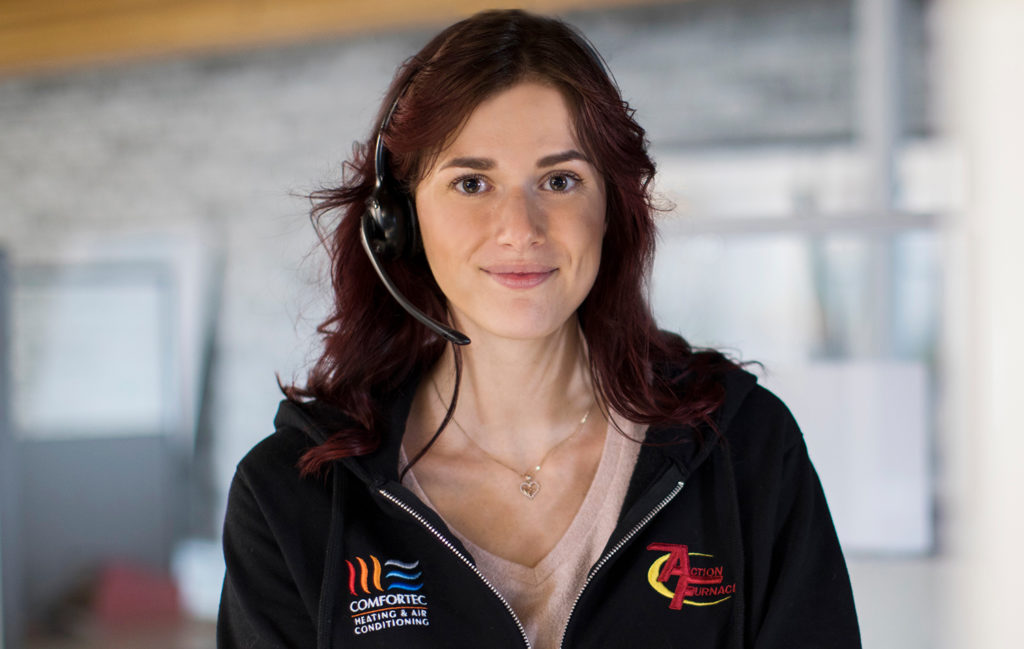 Dedicated Customer Experience Team
Action Furnace has built the only dedicated customer experience support team in Alberta. This team is dedicated to our installation customers only and can answer any questions you could have about your new system. Our dedication to our customers does not end once you have purchased your new system.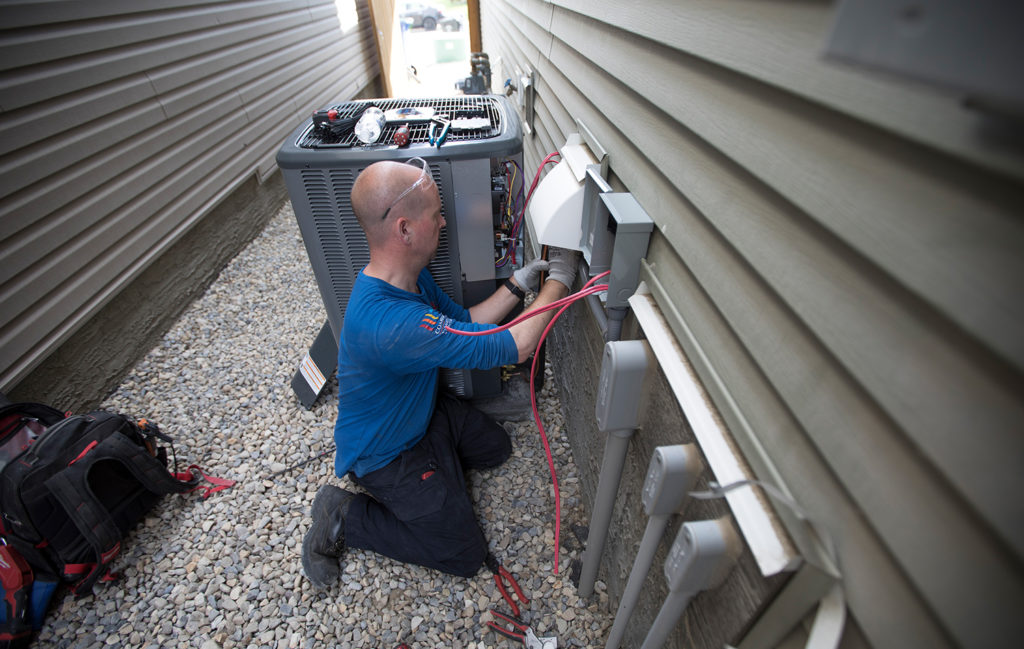 Exceptionally Friendly, Well-Trained, & Highly-Skilled Technicians
Before being allowed to lead an installation team, our technicians are required to complete a comprehensive 14 months apprenticeship program. Our technicians are very respectful of you and your home – we leave it cleaner than we found it!
Real Guarantees Backed by a Reliable & Established Company
No Surprise Guarantee
We guarantee that the investment quoted is what you will pay. There will be no additional charges during or after the installation.
$500 Installation Date Guarantee
Action Furnace is committed to ensuring that your new home comfort system will be installed on the date we promised. Should we have to reschedule, our team will honour our Installation Date Guarantee and pay you $500 for the inconvenience.
$500 + Hotel No-Frustration Guarantee
If your new furnace or air conditioner breaks down within the first two years and leaves you without heat or cooling for more than 24 hours, we will arrange your stay in a local hotel for the evening and pay you $500 for the inconvenience. 
Two-Year Trial Guarantee
We guarantee that if, after 2 years, the equipment and service that we provided do not meet your expectations, we will remove the equipment and return 100% of your investment, plus interest.
Comfort Guarantee
We guarantee that the air conditioner or new furnace system(s) we install in your home will heat or cool your home, as we have stated, to a variance of plus or minus three degrees. If the promised temperature range is not achieved, we will replace the system at no charge.
Energy Rebate Guarantee
We guarantee that the system(s) we have installed in your home qualify for the government rebate programs as we have stated, or we will rebate you the amount specified.
Customer Respect Guarantee
Our installation technicians are the best in skill, attitude, and workmanship. They will care for your home and complete the job with speed and precision. If they have not performed in accordance with these high standards, we provide you with a 1-year free club membership at no charge. 
Property Protection Guarantee
All property such as carpeting, floors, walls, furniture, and door frames are protected. In the unlikely event of damage, the property will be replaced and/or repaired. Protective hall runners will be used on all work and traffic areas as we install your new furnace and air conditioner. 
Apples to Apples Guarantee
We promise you will not find a comparable furnace or air conditioner installation with the same quality and guarantees for less money. If you do, we will pay you $250 over and above the competing offer. All we ask is that the comparison be "Apples to Apples." 
100% Peace Of Mind Warranty
Our exclusive line of air conditioning units comes with amazing 12-year parts and a 12-year labour warranty.
Our friendly comfort specialist will take the stress out of choosing your new comfort system. We GUARANTEE your new air conditioning system will be the right size for your home.
Trust the Alberta-Owned Company With Over 20,000 Installations & Thousands of 5-Star Reviews


Brandy & Scott
Action Furnace is our go-to company for all things HVAC-related. They have installed AC in our home and replaced our old furnace and hot water tank.

The service from Action Furnace has always been incredible. They are professional, organized, and efficient. We've always received reliable and straightforward advice on our HVAC needs and trust the information and recommendations we are given.

Whenever there have been issues, Action Furnace has always figured them out and stuck by the quote they have given us. No hiccups or backtracking, they get the job done no matter what. They are top-of-the-line service providers. You won't find better in the industry.


LOCAL TO YOU
Born and raised in Alberta, proudly serving Calgary, Edmonton, Red Deer, and the surrounding areas.
20,000 INSTALLS
Action Furnace has been in business since 1975 and knows what it takes to do the job right.
CONVENIENT FINANCING
With convenient financing as low as $59/month, your home comfort has never been this affordable.
Air Conditioning Installation FAQs
You can always contact our team with questions about AC installations, upgrades, or replacements. Here are some questions our customers often ask!
How Long Will a New Air Conditioner Last?
Your new air conditioner will always benefit from proper care and routine maintenance. You can expect well-maintained units to last up to 15 years. Action Furnace offers a 12-Year Parts & Labour Warranty on our cooling equipment installs.
Our AC installations are completed with the utmost attention to detail and designed to maximize each model's lifespan. Dealing with AC repairs swiftly, as your unit reaches the decade mark, is another way to help your cooling system last longer.
How Long Does an AC Installation Take?
No two installations are exactly the same. Several factors impact an air conditioning install timeline. These include:
The quality of existing ductwork in your home and whether or not we are adding ductwork.

The size and space we are working with to install your central air conditioning. Cramped spaces can increase installation time.

The size and model of your AC unit.

Ease of access to the installation areas.
Action Furnace Comfort Advisors do their absolute best to give you an accurate quote on expected installation timelines. That said, many new AC installs can be completed within one day. But we'll always communicate expectations before your purchase.
What's a High-Efficiency Air Conditioner?
High-efficiency air conditioners are more energy efficient than older or more basic AC units. A SEER rating of at least 13 is necessary to qualify an air conditioner as high-efficiency. Higher efficiency means lower energy bills!
Our cooling pros at Action Furnace can help you find a high-efficiency air conditioner that fits your living space and budget. We'll always optimize your HVAC systems for better performance as part of any AC installation.
Should I Repair or Replace My Cooling System?
The decision to replace or repair cooling equipment should always be made with the advice of our experts at Action Furnace. We can evaluate the age and health of your system and give you a realistic forecast for future repairs.
Every home's cooling is unique. But generally, an air conditioner 10 years or older should be considered for an upgrade. As HVAC systems age and the repair frequency increases, there comes a time when a new cooling system will save you money in the long run.
Still not working? No problem! Call Action Furnace and one of our highly trained technicians will report to your home in a fully stocked truck, quickly diagnose the problem and give you a price before work is done.
WATCH OUR VIDEO TO LEARN MORE ABOUT HOW ACTION FURNACE HAS BEEN ALBERTA'S COMFORT LEADER SINCE 1975.
RED DEER
7459 Edgar Industrial Bend Bay 2
Red Deer T4P 3Z5