It's almost popsicle season! Part of enjoying summer is all about soaking up the sun…except when you need some relief from the heat. If you're lucky enough to have in-home air conditioning, this part should be easy.
But rolling out of the winter isn't as simple as just turning on the magic "cool" button once patio season begins. You've got to make sure that your AC system is ready to start blasting cool air.
Completing these must-do's before turning on your AC after a long winter will help you save money and potentially prevent an HVAC disaster.
Watch the video for some pointers and read on for everything you need to know about your AC's maiden voyage this year!
Make Sure Your AC Filter is Clean
Your air conditioner system is like a set of lungs for your home. It pumps out fresh air for your living space and keeps you cool in your home. But an old, dirty filter isn't going to give you fresh air.
It's important to replace your HVAC filters every 3 months. Whether it's furnace weather, or your central AC is on, that air filter needs to be replaced quarterly.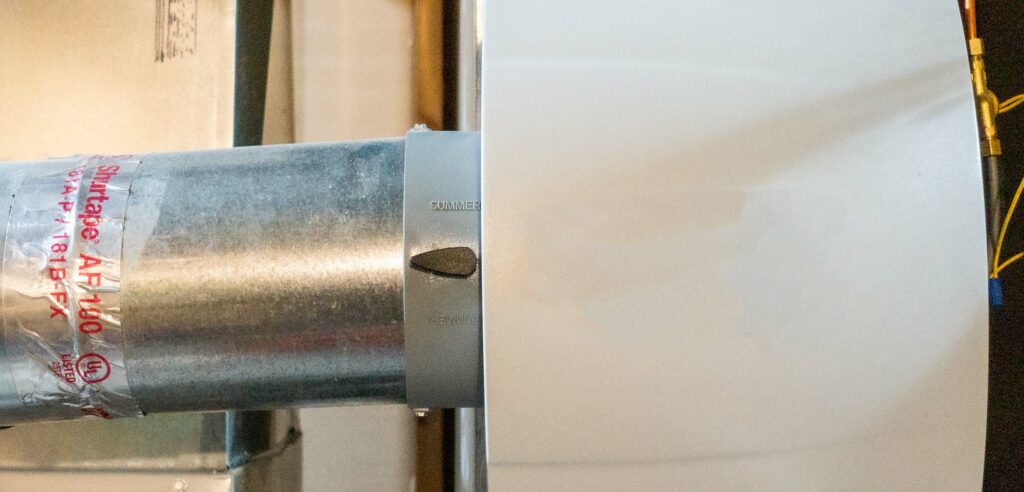 Air filters remove particles and debris from your air supply before it enters your ducts and flows throughout your home. A clean air filter has 2 major benefits for you and your family:
Clean air filters are better for your health and greatly improve your indoor air quality (IAQ).
Clean, unclogged air filters allow air to flow easier, reducing the demand on your AC system, and saving energy and money.
If you want to get nerdy about HVAC filters, check out this blog about types and ratings.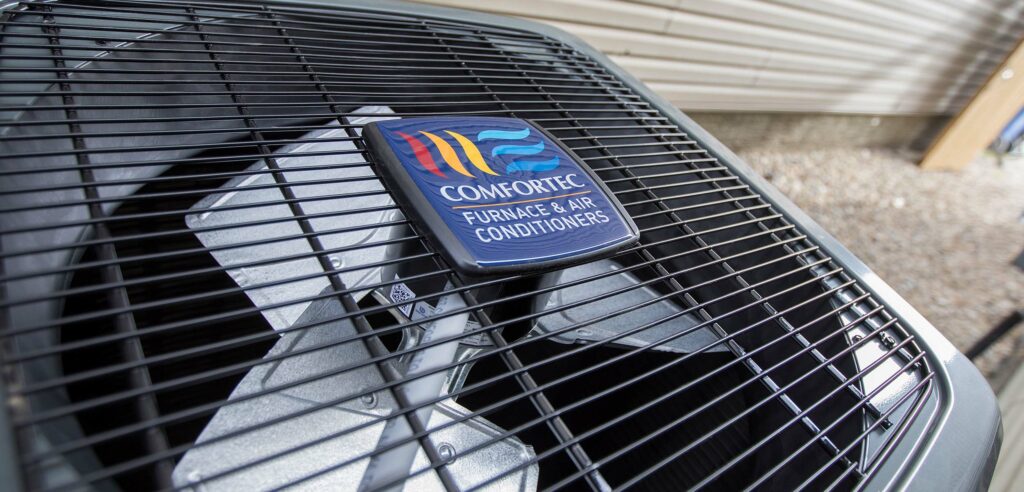 Switch Your Humidifier to Summer Mode
Have a humidifier in your home to stay balanced between dry winters and humid summers? Then make sure to change your humidifier setting to summer mode once the weather changes. Many whole-home humidifiers can be switched from a "WINTER" to a "SUMMER" setting.
In winter mode, a humidifier adds moisture to your in-home air supply. Leaving your humidifier on this setting will force your AC to work harder. It's harder to cool moist air than it is to cool dry air. So make sure these systems are working together to give you cool, comfortable air once the sunny days start.
If you aren't enjoying steady humidity levels, it could be time to consider installing a whole-home humidifier. Learn more here!
Is Your Outdoor Unit Clean & Clear?
Springtime in Alberta can be…messy. When the ice and snow melt and rain pelts your property, it can make your outdoor AC unit dirty. It's important to make sure this part of your system is free from debris to perform its best.
Locate your outdoor unit and clear away any debris wedged in the housing, fins (skinny metal strips), or coils. Look for mud, twigs, clumps of grass, rocks and pebbles.
This outdoor unit houses the condenser coils for your air conditioning. Debris and other muck slow down the cooling ability of your AC system. Making sure your outdoor unit is clean and clear before turning on your cooling system is going to improve efficiency from the get-go.
If there's a lot of crud in your outdoor equipment, you may need professional cleaning to get AC summer-ready.
Make sure your air conditioner's outdoor unit has clearance too. If you've been storing patio furniture or yard equipment beside your AC over the winter, move these things away a few feet. Better airflow = better efficiency = lower energy bills!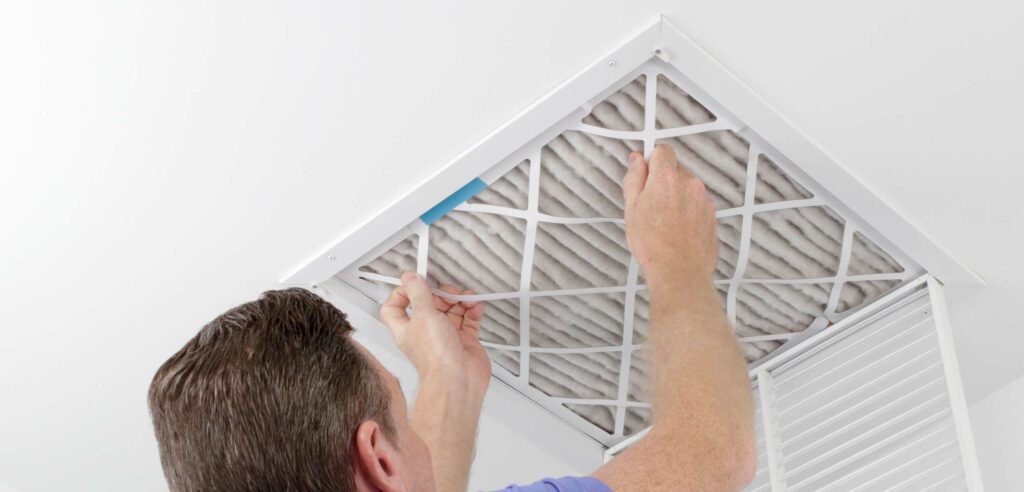 Clear Your Ducts for Better Performance
Your home's air ducts transport climate-controlled air to the rooms in your living space. Along the way, even air that's been filtered can pick up dust and impurities in dirty ducts. Getting your airducts professionally cleaned before AC season is a great way to avoid strange smells the first time you turn your system on.
There are other reasons you should have your ducts cleaned, but priming up for a comfortable summer is one of them. Ducts expand and contract with changing temperatures and climates. Over time, this can lead to cracks and gaps in the airways that can lead to air loss. Once again, it's all about optimizing your home's cooling efficiency!
If something isn't quite right the first time your AC goes into action, having recently serviced ducts helps eliminate potential issues.
Give Your Home a Vent Check
Chances are you've been using your furnace in Alberta until the weather changes, so the vents and registers throughout your home should ideally already be clear. But when you're performing annual air conditioning prep it's always a good time to give your air vents the once over.
Follow these guidelines for better cooling consistency and improved AC performance from the very first use:
Avoid placing furniture, area rugs, or other items over floor vents.
Don't block wall registers with furniture or large items. If a couch or bed must be placed in front of a wall register, try to keep the item 18 inches from the wall.
Make sure your vent covers are clean and that air can easily pass through.
Remember that closing vents doesn't mean your AC is working less. Closed vents just force more air to other outlets. Think about a zoned HVAC system if you want to limit cooling to certain parts of your home.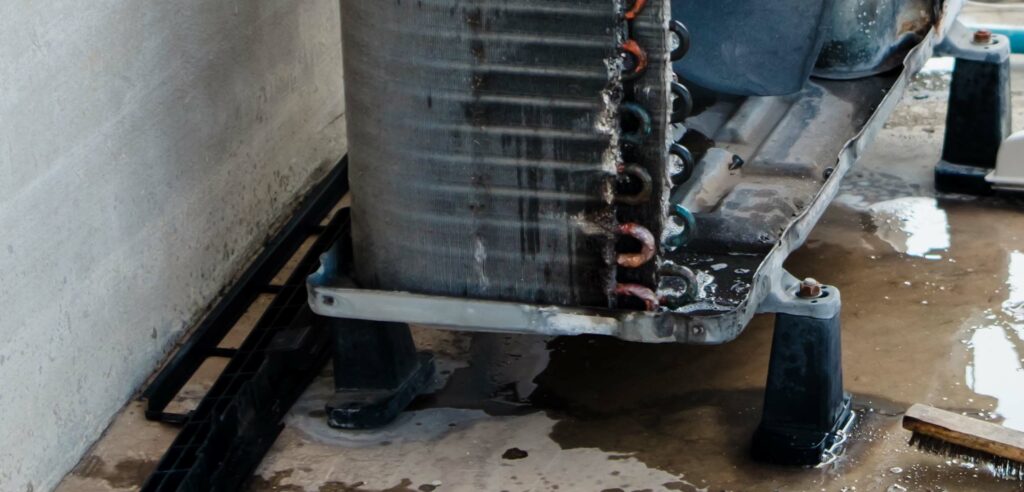 Take a Look at Indoor AC Equipment
Even if you're not an HVAC professional, every homeowner can do a preliminary check on their air conditioner's inside equipment. If there are leaks around your inside unit, this could mean a couple of things:
Your refrigerant line is frozen. Wait for the line to thaw completely before turning on your AC system. If this tubing that connects your outdoor and indoor unit doesn't thaw as the temperature rises, call an AC technician before using your air conditioner.
Your condensate drain line is clogged. When this line is blocked from draining natural condensation, water can build up and leak out of other parts of your air conditioner.
Make sure that your air conditioner's electrical breaker is set to ON before turning on your AC after winter. Go to your main electrical panel and locate the AC breaker.
And ensure each thermostat in your home has power and is working properly before getting your AC going for the first time this year. Setting your thermostats to an ideal temperature is also important for peak cooling performance.
Tune-Up Your AC for Summer Success!
The most surefire way to get your air conditioning truly summer-ready is with a professional AC tune-up. A multi-point inspection from Alberta's most trusted HVAC experts gives you peace of mind that your air conditioner is ready for a summer of cooling success.
No cool…no problem! Action Furnace services air conditioners across Calgary, Edmonton, and Red Deer. Our repairs are always fixed right or it's free. Give us a call to make sure all the must-do's are done before your air conditioner gets to work this year.